Private Lands – NM Unit 36
Unit 36 Private Ranch Elk Hunting: Our guides have been hunting the monster bulls of New Mexico Unit 36 since before anyone outside New Mexico really knew the caliber of bulls here.  Our almost 7,000 acre ranch is legendary for the massive bulls that made Unit 36 famous. Like our Unit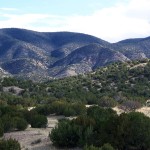 34 ranch, we are blessed here with a long term lease allowing us to manage the bulls and limit the number of hunters. With a desired 300" minimum we hope to keep dropping nice quality bulls here. We highly recommend late season dates in Nov-Dec-Jan. for this ranch, making this an ideal choice for those who have a hard time clearing their schedule in the fall.  This landlocked location is a safe haven for the areas bulls, as well as the location of some of the only year round water for miles in any direction. As this ranch boarders the Mescalero Indian Reservation, you never know what you'll find here. With help from mother nature this ranch can produce some giant late season bulls.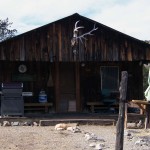 Lodging for our private ranch Unit 36 hunts: is a small cabin located in the middle of the ranch. Hunters stay in a new cabin with 2 queen beds right next door to the guide cabin.  Our guide cabin has a shower, a small living room area and 1 bedroom. It's a super nice cabin but it's located off the grid, so no power other than a generator and solar powered lights. Heater is propane.
Guided Bull Elk Rifle Hunts in New Mexico Unit 36
Any 5 consecutive days from Oct – Jan
Here along with our rut hunts we highly recommend late season dates in Nov-Dec-Jan. Elk hunts include 5 days guided hunting, lodging, all meals and landowner voucher.
$12,500 1×1
Guided Private Ranch Bull Elk Bow Hunts in New Mexico Unit 36
You can choose September 1-7, 9-15 or 18-24
Elk hunts include 7 days guided hunting, lodging, all meals and landowner voucher. Bow hunters can add additional day to their trips for $400 per day.
$11,000 2×1
Reservation and cancellation policies:
Once you draw, a deposit of 50% is due for all New Mexico hunting packages. Full
payment is due before August 5th; all hunts prices are plus NM state licenses and tax.
Your deposit will be refunded only if YOU can fill your spot with a new hunter. Trip
insurance is advisable: hunters that do not show or cancel reservations after the draw will
be billed the full hunt cost. Disputes over billing will be handled in the Courts of San Juan
County New Mexico between March 1st and August 15th only.
Call us to Book a Hunt
(505) 801-7500
Be sure to check us out on

FACEBOOK as well for up to the minute photos
and reports!
Call or email us today for more information: 505-801-7500 or info@compasswestoutfitters.com
Equal opportunity employer and provider, operating under permits from the San Juan National Forest as well as the Rio Grande National Forest. We are licensed by DORA (#1929) since 1997. Insured by Philadelphia and bonded by Western Surety, copies furnished on request.