New Mexico – Sheep Hunts
Guided Sheep Hunting New Mexico
There is no more majestic or coveted trophy than the Rocky Mountain sheep or Desert Big Horn sheep. We are blessed to be located right next to the best of both worlds. Our hunts in New Mexico for desert sheep are world class well managed units for monster sheep. Colorado sheep hunting offers a huge number of tags and units across the state with over all good quality sheep in almost every unit.
Our Sheep guiding division of Compass West Outfitters is guided by a mix of our true sheep fanatic guides. Our sheep hunting guides spend their summers in the high country or the desert lowlands of New Mexico looking for your dream sheep. But most importantly, they are working with me and you to plan your perfect dream hunt.
We understand that drawing this dream tag was a surprise and that most hunters will not have all the necessary gear you really need for this hunt. You can rely on not only world class hunting guides, but a fully outfitted sheep hunt, we will provide you with world class top end ultra-light mountain hunting gear customized to your hunt. We know you did not expect this and I'm tired of sending guys a list of $3000 worth of gear to buy you'll use once! This is what we do, it's our profession I own the best gear made and its here for you to use! I have Stone Glacier and Barney's backpacks, ultralight Stone Glacier and Kuiu tents, sleeping bags from kuiu, stone glacier, Wiggys and others. Titanium hiking sticks, ultra-light thermarest pads and all the other core gear you will need to make your hunt the most enjoyable life changing experience it can be, you'll only have one shot at this, let us be your guide!
New Mexico Sheep Hunting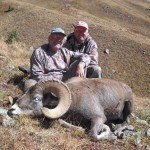 Here in New Mexico our world class sheep guide operation is well rounded and ready to roll. And best of all with no points system here you are on the same playing field every year with every hunter no matter how long they have been applying for tags. With all the units in New Mexico for Desert sheep, and a great number of rocky tags as well, please call us if you have drawn a tag or want help applying for that dream tag. We have extensive first hand scouting knowledge of Unit 27 the Peloncillo Mountains, Unit 26 the Hatchet Mountains, Unit 19 White Sands Missile Base, Unit 20 the Caballo Mountains, Unit 20 the Fra Cristobal Mountains, and Unit 13 the Ladron Mountains. We also excel at unit 16B San Francisco River, unit 45 Pecos, unit 53 Wheeler, unit 53 and 55 Latir, 49, 50 and 53 Rio Grande Gorge and unit 58 Dry Cimarron.  The ram of your dreams is waiting here in New Mexico please call on us to help!
With a 100% harvest on sheep hunts with a firearm in New Mexico for the last two decades, don't wait to call us today and make that sheep hunting dream a reality with Compass West Outfitters.
Desert sheep hunts in New Mexico: Hunts start at 10 days, please call if you have drawn a tag here in New Mexico for Desert Sheep we are permitted state wide for all sheep hunts!
All New Mexico sheep hunts are 2 guides, 1 hunter, lodging and all meals provided.
Guided New Mexico Desert Sheep hunt $8,500
Your New Mexico guided back pack sheep hunt will include:
Free use of our ultralight gear including: backpack, sleeping bag, tent, thermarest and more
Fully guided horseback hunt $10,000
Your New Mexico guided horse/mule sheep hunt will include:
Free use of our ultralight gear including: backpack, sleeping bag, tent, thermarest and more
On some desert sheep and some rocky sheep hunts we will work with hunters on more customized plans. These plans can include, hotel/motel accommodations and restaurant meals on some hunts.  Every hunt is fully custom planned to meet your every dream!
Reservation and cancellation policies:
Once you draw, a deposit of 50% is due for all New Mexico hunting packages. Full
payment is due before August 5th; all hunts prices are plus NM state licenses and tax.
Your deposit will be refunded only if YOU can fill your spot with a new hunter. Trip
insurance is advisable: hunters that do not show or cancel reservations after the draw will
be billed the full hunt cost. Disputes over billing will be handled in the Courts of San Juan
County New Mexico between March 1st and August 15th only.
Call us to Book a Hunt
(505) 801-7500
Be sure to check us out on

FACEBOOK as well for up to the minute photos
and reports!
Call or email us today for more information: 505-801-7500 or info@compasswestoutfitters.com
Equal opportunity employer and provider, operating under permits from the San Juan National Forest as well as the Rio Grande National Forest. We are licensed by DORA (#1929) since 1997. Insured by Philadelphia and bonded by Western Surety, copies furnished on request.