Ibex
Ibex hunting in New Mexico :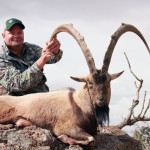 In the southern Florida Mountains of New Mexico stands what locals call "the rock" it is here that you will find one of the wildest animals you could ever try and hunt. Eyes that make a turkey look blind, instincts that put to shame the hardest hunted eastern trophy whitetail, and a nose like no other animal we have ever encountered. The Bezoar Ibex arrived in New Mexico in the early 70's and has done very well since. They are 100% free range in the wilds of Southern New Mexico near the Mexico border. Hunt able numbers seem to sometime cover the mountains in front of you.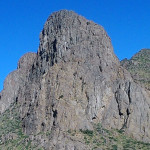 Rifle hunts in the Florida Mountains for the Bezoars Ibex start with spot and stalk hunts. Your guides will glass the choice mountain areas looking for your trophy of a lifetime. You will sneak into position for a shot aided buy an additional spotter at the bottom of the mountain. The rifle and muzzleloader ibex hunts have been 99% harvest for us over the years we have hunted the rock. Ibex bow hunters have a chance to kill one of these wonderful animals! Youth only seasons offer kids a chance to draw tags for a truly once in a lifetime experience. Youth hunts are later in the year now over the Christmas break from school. Bow hunts are 1-4 draw odds most year, and for good reason! Bow hunting ibex is not for everyone, please call me before applying for New Mexico Ibex bow hunts.
Once in a lifetime Ibex rifle hunts, 2 guides 1 hunter 5 day hunt
$6,500 plus lodging and meals
Muzzleloader Ibex hunts, 2 guides 1 hunter 5 day hunt
$6,500 plus lodging and meals
Youth only season for Ibex 2 guides 1 hunter 7 day hunt
$6,500 plus lodging and meals
Bow hunts for Ibex, 2 guides 1 hunter 7 day hunt
$6,500 plus lodging and meals
All hunts
$600 add on fee per day
Reservation and cancellation policies:
Once you draw, a deposit of 50% is due for all New Mexico hunting packages. Full
payment is due before August 5th; all hunts prices are plus NM state licenses and tax.
Your deposit will be refunded only if YOU can fill your spot with a new hunter. Trip
insurance is advisable: hunters that do not show or cancel reservations after the draw will
be billed the full hunt cost. Disputes over billing will be handled in the Courts of San Juan
County New Mexico between March 1st and August 15th only.
Call us to Book a Hunt
(505) 801-7500
Be sure to check us out on

FACEBOOK as well for up to the minute photos
and reports!
Call or email us today for more information: 505-801-7500 or info@compasswestoutfitters.com
Equal opportunity employer and provider, operating under permits from the San Juan National Forest as well as the Rio Grande National Forest. We are licensed by DORA (#1929) since 1997. Insured by Philadelphia and bonded by Western Surety, copies furnished on request.