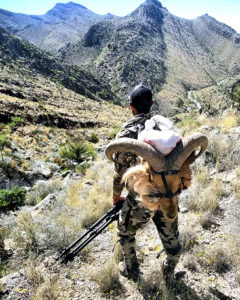 We have been scouting and hunting for the right ranch in Texas to allow our hunters to enjoy quality hunting with no draw for Aoudad. This winter I was in the right place at the right time, and I am happy to say the search is over! We have leased 65,000 acres of prime real-estate with some of the nastiest roughest mountains you have ever seen for the long term. Exactly the kind of country aoudad like to call home. In the Quitaman Mountains of West Texas we think we have struck gold. We will be offering hunts here on a very limited basis.
On this incredibly remote ranch we plan to offer only 6 spots per year, as we work with the owners towards a long term management goal. We are looking to harvest rams that are 10 plus years old here or over the 29-30"+ mark.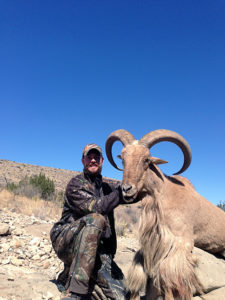 Your guide will pick you up at the El Paso Airport and take you to Cabela's for your tag.
Lodging: Well its over 2 hours from the pavement, and an awesome luxury not often found on aoudad sheep ranches this far out! It's not the Ritz, but offers a hot shower and a roof that's right on the ranch, and is a small step above camping. Hunts will be 5 days guided with lodging and meals included.
Have you been looking for the ultimate adventure in spot and stalk trophy sheep hunting…You found it! This is not a high fence hunt, we have nice road access with Polaris but you need to plan on earning your sheep.
Please call me at any time to talk more about this incredible opportunity, let's make it your turn this year to peruse bronze gold in Texas with Compass West Outfitters."Turning dreams into reality in the Southwest since 1997"
Reservation and cancellation policies:
Once you book a deposit of 50% is due.
Your deposit will be refunded only if YOU can fill your spot with a new hunter. Trip
insurance is advisable: hunters that do not show or cancel reservations inside 90 days will
be billed the full hunt cost. Disputes over billing will be handled in the Courts of San Juan
County New Mexico between March 1st and August 15th only.
Call us to Book a Hunt
(505) 801-7500
Be sure to check us out on

FACEBOOK as well for up to the minute photos
and reports!
Call or email us today for more information: 505-801-7500 or info@compasswestoutfitters.com
Equal opportunity employer and provider, operating under permits from the San Juan National Forest as well as the Rio Grande National Forest. We are licensed by DORA (#1929) since 1997. Insured by Philadelphia and bonded by Western Surety, copies furnished on request.