Barbary Sheep (Aoudad)
Aoudad or Barbary sheep: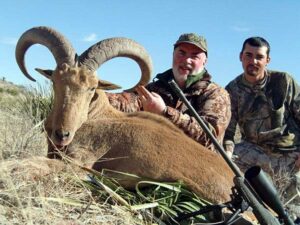 Aoudad or Barbary sheep were first introduced to New Mexico in the 1960's on the McKnight Ranch near Roswell, New Mexico. Since that time these rugged adaptive animals have thrived and expanded as a great sport animal here in New Mexico. Barbary sheep were hunted with over the counter tags until 2010 when the State of New Mexico Game and Fish added them to the list of sport animals residents and non-residents need to draw tags for. However, like elk and mule deer in New Mexico, hunters can still buy over the counter licenses that allow them to hunt on private deeded lands in the State for Barbary sheep. We offer both public land sheep hunts and private land hunts.
These hunts have grown in popularity over the last 5 years and are incredibly fun hunts.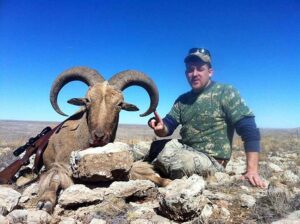 We also offer guided hunts on private ranches where we control all access as well as numbers of hunters (with no draw) in New Mexico AND Texas. Our private ranch hunts in New Mexico have been nearly 100% shot and 90% harvest since 2001. We harvest some of the best barbary in the State of New Mexico, with a 27-28" average and every year we will harvest a few monsters in the 30" plus class.
Guided Barbary sheep hunts in New Mexico on our private ranch will be based from a small spike camps, or hotels in the general areas. We will have RV's and tents here for the hunt as well as drinking and shower water.
Guided 5 day 1×1 hunts
$6,000
Guided spike camp hunts: DIY lodging and meals
$5,000 1×1 guided only
NM state tax and license fees are not included.
Reservation and cancellation policies:
Once you draw, a deposit of 50% is due for all New Mexico hunting packages. Full
payment is due before August 5th; all hunts prices are plus NM state licenses and tax.
Your deposit will be refunded only if YOU can fill your spot with a new hunter. Trip
insurance is advisable: hunters that do not show or cancel reservations after the draw will
be billed the full hunt cost. Disputes over billing will be handled in the Courts of San Juan
County New Mexico between March 1st and August 15th only.
Call us to Book a Hunt
(505) 801-7500
Be sure to check us out on

FACEBOOK as well for up to the minute photos
and reports!
Call or email us today for more information: 505-801-7500 or info@compasswestoutfitters.com
Equal opportunity employer and provider, operating under permits from the San Juan National Forest as well as the Rio Grande National Forest. We are licensed by DORA (#1929) since 1997. Insured by Philadelphia and bonded by Western Surety, copies furnished on request.