Colorado – Sheep
Guided Hunting in Colorado For Big Horn Sheep:
There is no more majestic or coveted trophy than the Rocky Mountain sheep or Desert Big Horn sheep. We are blessed to be located right next to the best of both worlds. Our hunts in New Mexico for sheep are world class well managed units for monster sheep. Colorado sheep hunting offers a huge number of tags and units across the state with over all good quality sheep in almost every unit.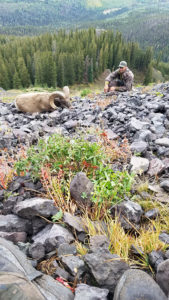 Our Sheep guiding division of Compass West Outfitters is run with a mix of our sheep fanatic guides.  Some of our Colorado sheep guides only guide sheep hunts allowing them to spend all summer scouting for one hunt or for a specific area.  Our sheep hunting guides spend their summer in the high country pounding away looking for your ram.  We are looking for your dream sheep, but most importantly we are looking to help you plan the hunt of your dreams.  From the moment that you book the hunt of your dreams we keep you involved and we have you covered.
We understand that drawing this dream tag was a surprise and that most hunters will not have all the necessary gear you really need for this hunt.  You can rely on not only world class hunting guides, but a fully outfitted sheep hunt, we will provide you with world class top end ultra-light mountain hunting gear.  We know you did not expect this and I'm tired of sending guys a list of $3000 worth of gear to buy you'll use once!  This is what we do, its our profession I own the best gear made and its here for you to use! I have Stone Glacier and Barney's backpacks, ultralight Stone Glacier and Kuiu tents, sleeping bags from kuiu, stone glacier, Wiggys and others.  Titanium hiking sticks, ultra-light thermarest pads and all the other core gear you will need to make your hunt the most enjoyable life changing experience it can be, you'll only have one shot at this, let us be your guide!
Colorado guided Sheep Hunting: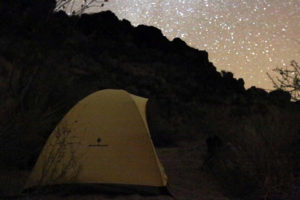 Compass West Outfitters is a priority use permit holder in the San Juan National Forest, Colorado as well as the Rio Grande National Forest, Colorado, and a permit holder in the Uncompahgre National Forest, Colorado we also have the BLM permits needed, we are licensed, bonded and insured Colorado outfitter #1929.  These Forest Service lands are the main areas we hunt in Colorado for sheep. But hunters need to understand that many national forest areas in Colorado for guided sheep hunting have a policy that allows priority permit holders in Colorado (we hold several), to apply for and obtain special temporary use permits for hunts such as big horn sheep and mountain goat outside their primary guide use areas.
As a result of this privilege we have been able to assist hunters with their special hunt in almost any area of Colorado for sheep!  We have had excellent success (95%) in obtaining permits in almost every area of Colorado we have tried to, including many national forest areas outside the primary permits that we hold. We have enjoyed this special privilege on many hunts, allowing hunters to have a little more freedom in choosing their outfitter or guide for this very special hunt. Soon as you contact us we will attempt to receive a verbal ok on the permit from the area managers. Once we have the verbal I will let you know, and begin the permit process. Once I have obtained the approval for that hunt and permit, we will at that time issue the required contracts and information regarding your hunt. Again we have been 95% successful getting the permits and in the 5% unsuccessful we have known on the first phone call that permits are not possible.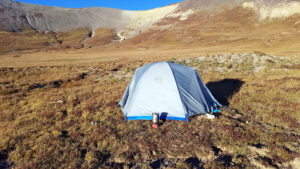 We have been in the business of chasing sheep in Colorado for years I've been a full time outfitter and guide in Colorado since 1997 when I moved into the area from Montana. Guide sheep hunting in S8, S9, S15, S16, S21, S28, S29, S31, S33 , S3, S4, S35, S69, S17 are some of the hunts we love but we offer to help on many others.  We are damn good at what we do, and will bust our butts for you the entire way!
With a 95% harvest on sheep hunts with a firearm for the last two decades, don't wait to call us today and make that sheep hunting dream a reality with Compass West Outfitters.
$8,500 10 day backpack hunt
Your Colorado guided back pack sheep hunt will include:
Free use of our ultralight gear including: backpack, sleeping bag, tent, thermarest and more
$10,000 10 day fully guided horseback hunt*
Your Colorado guided horse/mule sheep hunt will include:
Free use of our ultralight gear including: backpack, sleeping bag, tent, thermarest and more
Final hunt contract required by Colorado state law will outline the specifics of each hunt.
Reservation and cancellation policies:
Once you draw, a deposit of $2500 is due for all Colorado hunting packages. Full
payment is due before August 5th.
Your deposit will be refunded only if we develop a permit problem of if YOU can fill your spot with a new hunter. Trip
insurance is advisable: Disputes over billing will be handled in the Courts of San Juan
County New Mexico between March 1st and August 15th only.
Call us to Book a Hunt
(505) 801-7500
Be sure to check us out on

FACEBOOK as well for up to the minute photos
and reports!
Call or email us today for more information: 505-801-7500 or info@compasswestoutfitters.com
Equal opportunity employer and provider, operating under permits from the San Juan National Forest, Rio Grande National Forest, Uncompahgre National Forest . We are licensed by DORA (#1929) since 1997. Insured by Philadelphia and bonded by Western Surety, copies furnished on request.