Colorado – Drop/Spike
Drop camps in Colorado Unit 68-73-74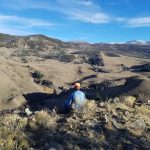 Camps are located in pre-scouted locations that offer an excellent chance for the do-it-yourself hunter to harvest an elk, mule deer or bear. We offer drive in camps in the lower elevations for people wishing to use both ATVs as well as trucks to access hunting areas. Our off mountain manager will check on you at prearranged times on prearranged days. You will only really need to bring your food for the week, rifle, sleeping bag, personal items and all your hunting gear. We will have a sleeping tent/dining tent where there will be lanterns as well as cook stoves and tables and chairs. You will also have an outhouse tent. If we have guides that are available we will offer you the chance to hire a camp guide who can help guide you into the right spots.
Colorado Unguided Drop Camps:
$2,000 per person, 4 person minimum
Guide fee for help: $400/day
Meat delivery to butchers: $150
Wrangler for pack out $350
Capping fee: $100 (if not done for pack out)
Skinning fee: $50
Quartering fee: $50 (if not done for pack out)
Re-supply run: $200 plus cost of supplies
What is in our drop/spike camps:
1 dining tent/ sleeping tent, outhouse tent (1), cooler (1), 2 burner cooking stove (1), propane, pots/pans, plates, bowls, silverware, cups, cots/sleeping mat, table and chairs in dining tent, wood stove, drinking water.
Colorado spike camp trips do NOT include:
Not included: Food, ice, paper products (toilet paper), sleeping bags, personal items, rifles or ammunition, meat packaging, capping or packing out of game.
More services can be arranged in drop-spike camps, please talk with us about your special needs.
IN COLORADO YOU MUST HAVE A HUNTERS SAFETY CARD IN ORDER TO HUNT!
There will be no refunds if you arrive with no hunters safety card!
Reservation and cancellation policies:
Once you draw, a deposit of 50% is due for all New Mexico hunting packages. Full
payment is due before August 5th; all hunts prices are plus NM state licenses and tax.
Your deposit will be refunded only if YOU can fill your spot with a new hunter. Trip
insurance is advisable: hunters that do not show or cancel reservations after the draw will
be billed the full hunt cost. Disputes over billing will be handled in the Courts of San Juan
County New Mexico between March 1st and August 15th only.
Call us to Book a Hunt
(505) 801-7500
Be sure to check us out on

FACEBOOK as well for up to the minute photos
and reports!
Call or email us today for more information: 505-801-7500 or info@compasswestoutfitters.com
Equal opportunity employer and provider, operating under permits from the San Juan National Forest as well as the Rio Grande National Forest. We are licensed by DORA (#1929) since 1997. Insured by Philadelphia and bonded by Western Surety, copies furnished on request