Bison
Bison Encounter
Bison Hunting in Colorado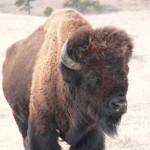 Our guided bison home town hunts are near Denver Colorado, but we also have hunt locations in New Mexico, Nebraska, South Dakota and Canada for some of the best eating buffalo in the west, you will want our Colorado ranches, but many of our other locations are better for trophy bulls!
If you were planning on a hunt for a 2.5 year old bull and choose to change you plans and hunt a monster trophy bull you have that option. Most hunts take from 1-1.5 days but we have had some bow hunts take 3-4 days when looking for a special trophy bull. All 2.5 year old bull hunts are for PRIME meat and will yield about 400-500# of meat, cows will offer about 300-400# of meat. We offer hunts from November 25th-March 15th but if you are looking to hunt a monster bull or have a head mount of any animal we highly suggest that you plan your hunt from December 15 to January 30th for the best coats and hide.
Costs:  Please call for prices
Hunts are Oct-Feb, trophy bulls are best Oct-early Dec
*1 buffalo, all meat, hide and skull included in costs
* 2 days guided hunting on the ranch
Price Does NOT include:
*Meat packaging/shipping
*Taxidermy work/shipping
*Tips to guides and ranch hands that assist on the hunt.
Reservation and cancellation policies:
Once you draw, a deposit of 50% is due for all New Mexico hunting packages. Full
payment is due before August 5th; all hunts prices are plus NM state licenses and tax.
Your deposit will be refunded only if YOU can fill your spot with a new hunter. Trip
insurance is advisable: hunters that do not show or cancel reservations after the draw will
be billed the full hunt cost. Disputes over billing will be handled in the Courts of San Juan
County New Mexico between March 1st and August 15th only.
Call us to Book a Hunt
(505) 801-7500
Be sure to check us out on

FACEBOOK as well for up to the minute photos
and reports!
Call or email us today for more information: 505-801-7500 or info@compasswestoutfitters.com
Equal opportunity employer and provider, operating under permits from the San Juan National Forest as well as the Rio Grande National Forest. We are licensed by DORA (#1929) since 1997. Insured by Philadelphia and bonded by Western Surety, copies furnished on request.