Sheep
Sheep Hunting New Mexico and Colorado:
There is no more majestic or coveted trophy than the Rocky Mountain sheep or Desert Big Horn sheep. We are blessed to be located right next to the best of both worlds. Our hunts in New Mexico for desert sheep are world class well managed units for monster sheep. Colorado sheep hunting offers a huge number of tags and units across the state with over all good quality sheep in almost every unit.
Our Sheep Freak Guides division of Compass West Outfitters is managed and run by legendary taxidermist and world class sheep hunting expert John Gardner. John has guided one-on-one sheep and goat hunts for the last 20 years. With 20 year's experience of guiding only sheep and goat hunts, anything John has planned for your dream hunt will not disappoint.
New Mexico Sheep Hunting: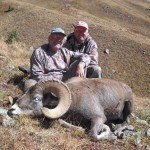 Here in New Mexico John Gardner manages our world class sheep guiding operations as well. With unreal quality and 15 new sheep units that opened in 2012 New Mexico has the best overall potential for world class desert Sheep of any of the states we guide. Plus with no points system here you are on the same playing field every year with every hunter no matter how long they have been applying for tags. With all the new units in New Mexico for Desert sheep please call us if you have drawn a tag. We have extensive first hand scouting knowledge of Unit 27 the Peloncillo Mountains, Unit 26 the Hatchet Mountains, Unit 19 White Sands Missile Base, Unit 20 the Caballo Mountains, Unit 20 the Fra Cristobal Mountains, and Unit 13 the Ladron Mountains. The new state record for New Mexico is waiting for you, don't miss out call today!
Colorado Sheep Hunting: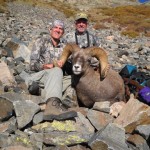 Compass West Outfitters is a priority permit use holder in the San Juan National Forest, Colorado. We are licensed, bonded and insured Colorado outfitter #1929, this is one of the main areas we hunt.  However hunters need to understand that many national forest areas have a policy that allows priority permit holders in Colorado, to apply for and obtain special use permit for special hunts such as big horn sheep and mountain goat outside their primary areas.
As a result of this privilege we have been able to assist hunters with their special hunt in almost any area of Colorado for sheep over the past 10 years.  We have had excellent success (95%) in obtaining permits in almost any area of Colorado we have tried to including many national forest areas outside the primary permit that I hold.  We have enjoyed this special privilege on many hunts allowing hunters to have a little more freedom in choosing their outfitter or guide for this very special hunt.   Soon as you contact us we will attempt to receive a verbal ok on the permit from the area managers.  Once we have the verbal I will let you know, and begin the permit process.  Once I have obtained the approval for that hunt and permit, we will at that time issue the required contracts and information regarding your hunt.  Again we have been 95% successful getting the permits and in the 5% unsuccessful we have known on the first phone call that permits we not possible.
John Gardner  has been in the business of chasing sheep in Colorado for over 25 years.  Guiding for us as well as many other outfitters in the state as a sheep only guide over the past 2 decades in Colorado plus New Mexico and Nevada.  If we are unable to obtain the necessary permits for your hunt, we can refer you to the very best priority use permit holders in that area that we know or trust will take care of you.   S8, S9, S15, S16, S21, S28, S29, S31, S33 , S3, S4, S35, S31 are some of the hunts we love that are outside our normal permit area but we are damn good at what we do, and will bust our butts for you in any area!
John and his crew love to chase the desert Sheep here in Colorado as well. John has been responsible for the state record Desert Sheep in Colorado as well as numerous other trophy of a lifetime desert Sheep here in Colorado.  All the Colorado desert sheep will be booked with another outfitter that has the special hard to obtain permits for this hunt, but John also works with this outfitter as a guide!  We would love to help you here but permits are not an option for us, and in this case the local outfitter with the permits and requesting John as your guide is the only way to go.
With a 99% harvest on goat and sheep hunts for the last two decades, don't wait to call us today and make that sheep hunting dream a reality with Compass West Outfitters.
Guided Desert sheep hunts in Colorado, Units we hunt:
Rifle:
S-M-S03-01-R, S-M-S09-01-R, S-M-S11-01-R, S-M-S12-01-R, S-M-S15-01-R, S-M-S17-01-R, S-M-S21-01-R, S-M-S31-01-R, S-M-S32-01-R, S-M-S33-01-R, S-M-S44-01-R, S-M-S60-01-R
S-M-S66-01-R, S-M-S71-01-R, S-M-S19-01-R, S-M-S20-01-R, S-M-S-01-R27, S-M-S25-01-R, S-M-S26-01-R, S-M-S29-01-R, S-M-S30-01-R, S-M-S31-01-R, S-M-S10-01-R, S-M-S11-01-R
S-M-S16-01-R, S-M-S13-01-R
Archery:
S-M-S09-01-A, S-M-S12-01-A, S-M-S32-01-A, S-M-S35-01-A, S-M-S44-01-A, S-M-S49-01-A,
Guided archery mountain goat hunts in Colorado G05 and G08:
G-E-G05-01-A, G-E-G08-01-A
Guided Mountain goat hunts in Colorado: with John Gardner, G15-G16-G05:
G-E-G15-01-R, G-E-G02-01-A, G-E-G01-01-A, G-E-G03-01-A, G-E-G04-01-A, G-E-G05-01-A, G-E-G06-01-A, G-E-G07-01-A, G-E-G10-01-A, G-E-G11-01-A, G-E-G12-01-A, G-E-G13-01-A
G-E-G16-01-A, G-E-G17-01-A
Desert sheep hunts in New Mexico: Hunts start at 10 days, please call if you have drawn a tag here in New Mexico for Desert Sheep we are permitted state wide including WSMR for all sheep hunts!
All New Mexico sheep hunts are 2 guides, 1 hunter, lodging and all meals provided.
Guided New Mexico Desert Sheep hunt- $8500
Bighorn sheep hunts in New Mexico: For our mountain hunts here in New Mexico for Bighorn sheep we have two options hunters can choose from:
Guides, wranglers, all meals and lodging provided
$8500 10 day backpack hunt with horse pack in, pack out and resupply and camp move support
$9500 10 day fully guided horseback hunt *
Colorado guided bighorn sheep Hunts: We can get permits to guide sheep in many areas of Colorado, do to some special rules that allow Colorado outfitters  who are priority permit holders to apply for sheep hunting permits outside their normal areas.  Please call about what we can do to help but know this we really love guided bighorn sheep hunts in S-21, S-33, S-15, S-16, S-31, S-35 S-16 and we have received the required permits in these areas in the past. If you have max points call us, we have been 99% harvest on sheep hunters! – 10 day hunts with two price options:
$8500 Backpack hunt
$9500 horseback hunt*
Guided Aoudad or Barbary sheep hunting in New Mexico: Hunts are 2×1 guided, including private land access – 4 day hunt
$4,500 2×1 or $5,500 1×1
*Compass West Outfitters works with an incredible livery that has the best mountain ready stock for these special hunts
This contract allows us to have a fulltime wrangler in camps with you and your guide
This also frees up your guides to concentrate on the scouting and hunting full time for your hunt
*1X1 hunters please plan to add $XXX for this service.
Reservation and cancellation policies:
Once you draw, a deposit of 50% is due for all New Mexico hunting packages. Full
payment is due before August 5th; all hunts prices are plus NM state licenses and tax.
Your deposit will be refunded only if YOU can fill your spot with a new hunter. Trip
insurance is advisable: hunters that do not show or cancel reservations after the draw will
be billed the full hunt cost. Disputes over billing will be handled in the Courts of San Juan
County New Mexico between March 1st and August 15th only.
Call us to Book a Hunt
(505) 801-7500
Be sure to check us out on

FACEBOOK as well for up to the minute photos
and reports!
Call or email us today for more information: 505-801-7500 or info@compasswestoutfitters.com
Equal opportunity employer and provider, operating under permits from the San Juan National Forest as well as the Rio Grande National Forest. We are licensed by DORA (#1929) since 1997. Insured by Philadelphia and bonded by Western Surety, copies furnished on request.