Private Ranch Hunts
Guided Private Ranch Hunting in New Mexico unit 34
Compass West Outfitters as an exclusive access to almost 50,000 acres of private land in the SE part of New Mexico in units 34, I offer a limited number of hunters the opportunity to hunt this ranch for bull elk hunts on the ranch WITH NO DRAW. Bull elk are normally 6x6s and in the 275-320 class but we take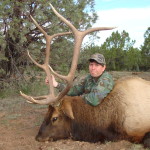 much bigger, almost every year we will harvest a few bulls in the 330-360+ range as well. This unit is famous for its trophy elk hunting in New Mexico and our ranch is limited to 16 guided elk hunters each year. In 2012 hunters took a 380 bow bull as well as a 366 rifle bull off this ranch – 6 years of 90% success and 100% opportunity to shoot keep hunters returning year after year! This is a great ranch that hunts better each week as we move into the late season months. Nov-Dec-Jan offer up our highest success rates as well as the most bulls sighted each day! Hunts are spot and stalk hunts on foot. Most days you will walk high on the ridges and glass for bulls as you move from area to area. Once bulls are located we will stalk them or set a plan for that evening or the next morning.
These hunts are limited to a very small number of people each year so don't miss out, call today!
Lodging for our private ranch hunts is a small cabin located in the middle of the ranch. Our cabin has showers, a great little living room and 1 bedroom with twin bunks. Meals are prepared by our wonderful local cook and her family or by your guide. We also added a small sitting room to the house in 2012. You will not forget the hunts or meals on this ranch for years to come!
Guided Bull Elk Rifle Hunts in New Mexico Unit 34 – you can choose any 5 consecutive days from Oct. – Jan. We highly recommend late season dates in Nov-Dec-Jan. for very best harvest rates. Elk hunts include 2 x 1 guide service, lodging, meals, landowner voucher

$8,250 2×1 Plus $700 for 1×1

Guided Bull Elk Hunts with a Bow – 7 day hunt, only 2 bow hunters per year allowed to hunt the ranch. Bow elk hunts include: 2 x 1 guide service, lodging, meals, landowner voucher

$8,250 2×1 Plus $700 for 1×1

It is possible to arrange elk and mule deer combos for rifle and bow. Please call me for more details on this great hunt

Call For Price
Reservation and cancellation policies:
Reservation and cancellation policies: 50% deposit on all hunts on private land, all hunts are two hunters, one guide, all lodging and meals are included in the price, 1×1 hunt will result in an additional $1000 fee please contact us for more information on 1×1 hunts. NM hunting license cost of $630, or 6.04% tax NOT included in hunt costs.
NO DRAW ON PRIVATE RANCH HUNTS
Call us to Book a Hunt
(505) 801-7500
Guided hunts in Unit 34, Unit 36 and Unit 37 Click Here
Guided Hunts in Unit 13, Unit 17 and Unit 12 Click Here
Guided Hunts in Unit 16A, Unit 16D, Unit 16C Click Here
Guided Hunts in Unit 2 Click Here