Fly Fishing
Fly Fishing the San Juan River and beyond: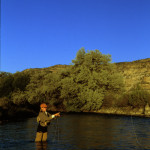 I have been a fly fishing guide in the Western US since the early 1990's and have traveled extensively in the West as well as fly fishing from Maine to Florida, Texas to Mexico and across the Western US and most of Western Canada to Alaska. Let my years of experience and a lifetime of fly fishing travel guide you to the very best the San Juan River or any other river have to offer. From float fishing to walk and wade trips to back country wilderness horseback trips, we have the very best connections to hook you up with the very best guides Worldwide. My now home river, the San Juan River in NW New Mexico, offers one of the best chances to fly fish year round. This is world class tailwater that will impress you every day of the week, 365 days a year. Heavy summer hatches as well as consistent winter fishing will give you a unforgettable trip to the San Juan River every time. Be sure to allow my over 22 years of experience as an outfitter, fly fishing guide and lodge owner lead you to the finest destinations in the world. We lay our reputation on the line with every trip. Trust our reputation to "hook you up" with the best the world has to offer!
Call me anytime to talk about your dream fishing trips – we have great friends and connections from the Indian Ocean to Mongolia and everything in-between.
Featured trips include:
Guided days on the San Juan River are $375.00 for 2×1 guide service, or $325.00 for 1×1 including drinks a great stream side lunch and all gear needed for day.
We can also set you up for full service packages including lodging and meals here in New Mexico and SW Colorado.
Kanektok River, Alaska: This is wilderness fishing at its finest. My good friend and top notch outfitter offers the very best in comfort and wilderness all rolled into one. This is a trip like no other, mouse fishing for bows all day, with breaks to catch more salmon than a mortal man should! Call me for dates and details, We often host a trip here each year, myself or one of our guides join you on this once in a lifetime excursion!
Kodiak Island Steelhead: The fishing is so good here I am not allowed by the outfitter to list the river by name! I have been on this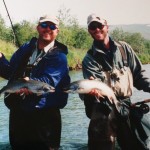 trip and as a direct quote from my fishing log "the trip all will be measured against". No joke here people, world class private water fishing at its very best. 6 rods a week 4 weeks a year and access only by invitation!
Call for details
Call or click here to email us today for more information:
505-801-7500